When you're an avid reader, a passionate blogger or a mix of both, it's easy to get overwhelmed with the feelings that you want to do it all. It's even easier to fall into the burn-out trap, thinking you're handling it all well while reading and blogging fatigue are hanging over you, ready to crush you for a long, long time.
I'm way too familiar with the feeling of hanging on when I should let go. Let me tell you one thing: that's not good, at all. Actually, it's the best way to fall into a reading slump, a blogging slump, an everything-slump you're having the hardest time getting out of.
Today, I compiled for you 10 tips I'm trying to use whenever I feel fatigue wrapping its arms over me, ready to crush me. Here's to hoping these little reminders will help you take care of yourself and keep on having fun, always.
How to overcome reading and blogging fatigue
Read whatever you want, whenever you want
It's funny: we all started reading and, for us book bloggers, blogging about books because we just love it. Once we get into it all, it's SO easy to get overwhelmed, though.
To feel like you have to be reading. As soon as you get a bit of free time.
To feel like you have to read certain books, too, to be in the loop.
Let me tell you: this is the best way to burn out and fall into the worst reading slump ever.
Every now and then, I need to look at my books and tell myself that no, I don't want to read today. I have to remind myself that I don't have to read this or that book because it's been here longer, because everyone is talking about it, because some external force is making me read it right now.
There's no one standing in between your reading and you, only yourself. So just ignore the comments in your head telling you that you should be reading more or less, or this, or that book. Just do whatever you want.
Don't challenge yourself too much
Confession time: I am not a fan of reading challenges, at all. I'm not judging anyone who is, though! Great for them. These kind of opportunities, whether it's to read more, to cross certain books off your list or just to participate in something and feel part of the community, can be wonderful.
That being said, I also feel like too many challenges can get overwhelming and throw you into a state where all you feel is pressure. I know it's not the case for everyone. Some people thrive with challenges like that and that's fantastic for them!
I often feel like a black sheep in the bookish community, because I never participate in reading challenges. Hell, even just the Goodreads Challenge is enough to stress me out. If you are a little bit like me, it's okay. It's okay not to challenge yourself too much and to take it at your own pace.
It's not because you're not joining any reading challenges that you're not a great reader.
Related blog post: Why I don't Do the Goodreads Challenge
This works for blogging too! Don't put too many expectations on yourself to blog three times a week, to blog-hop all the time, to write some kind of posts because you feel like you have to, because that's what expected of you. Challenge yourself to do it your own way, for once.
Don't take too much ARCs on
I mentioned this recently in my blog post about starting a book blog, but I feel like it's SO important here, too. When it comes to reading and blogging fatigue, especially as a book blogger, ARCs are such a HUGE part of it.
Like so many things in life, there are two sides to that coin. While reading ARCs are an incredible opportunity, they can be overwhelming. Too many books to read all at once might get stressful and, with release dates soon approaching, it's easy to feel like you're under so many deadlines you're drowning.
I don't let myself drown anymore, because I think way too much before sending any email request. I'm reading a book's synopsis until my eyes get blurry, just to make sure how badly I want it. Just to be absolutely certain that having it on my TBR, on top of everything else, will only bring me giddy joy and not stress.
Also, let's face it: no one is paying me to read and review ARCs. I wish I could be one of these books bloggers getting paid to do what they love. I mean. Professional reviewers in magazines and online are getting their dime. I have an audience and followers. Why don't I? That's a whole other question and I'm going off tangent here. Sorry.
My point is. This is not my job. While there are expectations from publishers when you're approved for an ARC, yes, expectations that you should respect, I'm not going to give myself extra pressure for it. If I get the incredible opportunity to be approved, I'm not going to blow it, of course I will do the work to read, review and promote the book. But I'm not going to stress myself out for it more than necessary.
Related blog post: 5 Things You Need to Know Before Starting A Book Blog
Allow yourself to change your reading pace
With people reading 100 books in 4 months and me reading, like, 15, there's this feeling of not feeling adequate enough. Like I should be reading more.
Like I could read more, too.
Even when you love reading, you might not spend your entire life with the same feelings about it. Hell, my reading pace changed over the course of my life. While I've always been reading, the rhythm at which I devoured books has changed in so many years. I read books in my crib (true story), read a little less as a teenager, read more as a young adult and EVEN MORE as a young book blogger. Now, my pace has been slower with my life being different.
Reading fatigue can definitely be born from the fact that you're expecting yourself to read at the same pace every single time. When your rhythm slows, you're mad about it.
You know what? It's okay not to read, too. It doesn't make you any less of a bookish person, or a passionate reader at all. You're allowed to read less, more, to take a break. Your passion isn't defined by the number of books you devour, but by the happiness you get when you can and want to read.
Remember to read for fun!
Reading doesn't have to be something you need to cross off your list every day. Sometimes, I feel like that. Because book blogging is such a huge part of my life, I feel like I should read more.
The day I haven't read, I failed.
It's not a failure if you're doing something else.
Reading always have to be something fun that you're looking forward to.
Get off social media
Oh, social media. I have a love-hate relationship with it. On the one hand, I find it fascinating. I love how easy it is to connect with people and oh, the endless possibilities, the creativity of people on bookstagram, the conversations and friendships growing on there.
On the other hand, I despise it with all my heart. I know people only put out their best selves on social media and we can't know anything about someone from a post there. Still. Social media is, for me, one of the worst things when you're an anxious mess and tend to compare yourself to others, too.
You see people reading lots and talking about it, while you're stuck in that slump. You see people sharing their blog posts with hundreds of retweets, while you can't even get one. Followers are growing while you're stuck. You're terrified to type out one single tweet or post on instagram because you feel inadequate.
Once again, this is my personal experience. Some people thrive and love being on social media. Good for them. Me? It makes me feel anxious and overwhelmed and like I want to quit blogging some days.
Taking a little break from social media, whether it's for a day, a week or just a couple hours, allows yourself to focus on you. What you want to do, what you like to do.
Without social media, I feel like I can focus on what I want to do on my blog without hearing that little voice telling me: you're writing this post for N O T H I N G. No one cares.
Without social media, I feel like I can read without seeing people participating in challenges, claiming they read 100 books while I only read 10. It's good, because I feel like I'm in my own bubble for a while and don't have anyone to compare with.
Try to switch things up
One of the most efficient things, for me, to get read of that reading and blogging fatigue, is to switch things up.
With reading, you can change things up by:
Picking up a book a little bit out of your comfort zone that you've been eyeing for so long,
Change formats! Try audiobooks, switch between physical and digital copies.
Change your reading place! Try reading in the garden, find a new reading nook in your home.
Pick up an old book! If you've been focused on new releases, try a backlist one. Hell, even try re-reading an old favorite for once.
With blogging, change can mean so many things. Here are some ideas of things to change in your blog to find motivation again:
Change your schedule! Post more, post less, on different days…
Change what you write about: try writing about unusual topics on your blog that you feel strongly about.
Write differently: give your blog posts layout a fresh new look, try writing your blog posts or reviews differently…
Go down memory lane: re-read old blog posts. You might find some nostalgia and some inspiration there! (No. Don't throw your blog in the trash when doing that. Appreciate your growth instead!)
Think about your blog's identity. Maybe you need a fresh start? A new design, a new branding, a brand new blog, a new theme, more freedom to create a blog that's entirely yours with self-hosting…
If you're looking for some great blogging tips, to self-host your blog, find a great theme and more, check them all out in my blogging resources page!
Stop chasing success, chase happiness instead
It's SO easy to get obsessed with statistics. Whether you're reading or blogging or doing both, it's so easy to only look at numbers. How many books you've read. How many visitors you got on your website.
Numbers might make you feel things. Happiness at having reached a new goal. Giddiness at seeing people visiting your blog, enjoying your work. Obviously, seeing that, you want to please people and give them what they want. Or maybe that's just me. I'm a people's pleaser.
While I think it's great to pay attention to what your audience wants and likes, what they react strongly to, as well… I think it's more important to write something you love. If the two perfectly line up, it's THE BEST. If they don't really… always go with love. Always write with passion. Life's too short to bother writing blog posts that bore the hell out of you, okay?
Related blog post: How to write a blog post people will read
Confession time: my latest blog posts kind of flopped. I hate it so much that this doesn't make me feel like a successful book blogger.
Honestly, though, I know this is out of my control. I can't explain what happened here. People haven't seen them, people have been reading my blog less. I don't know, but all I can do is my best and hope this is just temporary.
I just keep on writing what I want to write and what makes me happy. That's how I stay motivated and excited to blog.
Reach out to other members of the community
One of the best things about being part of a bookish community is that people are there for you. I'm amazed by the friends I've made ever since I started my book blog 6 years ago, forever grateful to know I can reach out to them for everything and they will be there.
Whether you're new or, like me, a little bit of a dinosaur, don't be afraid to ask others for help. Inspiration when you're stuck (hey, I actually asked if people wanted to read anything from me on instagram a while ago. This blog post is born from this!). Help for books to get you out of your slump. Just scream with them about your fatigue to help you get over it.
You'll find all the support you need here.
Related blog post: My top 5 tips to interact with the book blogging community
Take a break from everything
When everything else fails, don't ever be afraid of taking a break.
I know. It's scary to step away and wonder if you're ever going to be back. To stop reading and think: what if I never want to pick up a book again? To stop blogging and wonder: what if I never come back?
If you love it, you'll be back. Whether it's in a day, a week or a year, it doesn't matter. Every book, your little blog, your closest friends… they will be there waiting for you.
You, no matter what, should always come first.
📌 Pin 10 tips to overcome reading and blogging fatigue on Pinterest!
What do you do when you feel tired of reading and/or blogging? Any tips to share to get over it?
New and old bloggers: is there any advice you'd like to hear from me, any topic you'd like me to cover? Feel free to let me know!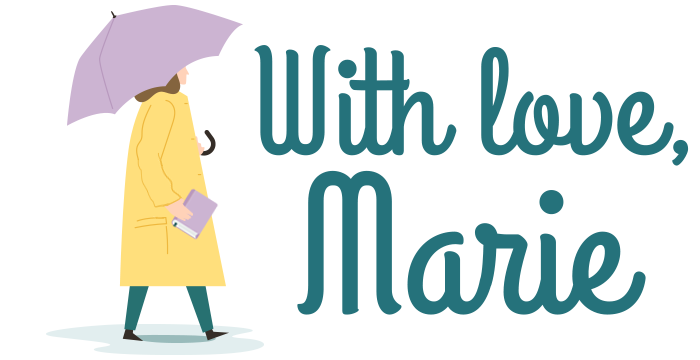 Twitter ☂️ Bookstagram ☂️Goodreads ☂️ Bloglovin' ☂️ Support the blog